Remembrance - La Crosse Floral
To Remember
At La Crosse Floral, we understand the significance of a floral tribute to show respect for one
who has passed away. We will help you choose a fitting remembrance that says what words cannot.
We deliver to local funeral homes and churches in La Crosse, Onalaska, Holmen, Stoddard, West Salem and La Crescent.
Casket Sprays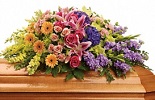 Casket sprays are the essential floral bouquets in a funeral service when one has passed away.  They are usually designed to fit on top of half of the casket only, especially for open casket services.  Most families request favorite flowers or colors and some even choose to personalize with favorite things of the deceased.  Our Professional Designers can assist you in designing the most appropriate casket spray for your loved one.
Urns for Cremains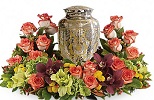 Many people are now choosing to be cremated.  Flowers speak even when cremation occurs.  There are many ways to design a floral arrangement for an urn or box—all around, a small bouquet in front, or even 2 bouquets on either side of the urn.  Talk with one of our Designers today to help you choose a unique design..
Easel Tributes

There is nothing more meaningful than an standing easel tribute to show true respect for the one who died.  Easel tributes are designed in various shapes and styles–wreaths, circle and heart forms, crosses and can also simply be a garden of flowers on a stand, thus the standing tribute. Tell us your wishes for colors and style, or let our Designers help you in your selection.  We are here to make this as easy for you and your family as possible.
Altar Designs

Altar bouquets are designed to be be on the altar or on top of a table/stand.  They are typically triangular in shape and are one-sided.  They can be designed in any size appropriate for the size and scope of the service.  Altar designs are the most popular style in the Midwest.
Vased Sympathy Bouquets

Our customers select sympathy bouquet in vases especially for a Memorial or a Celebration of Life.  Sympathy bouquets in a vase are welcomed by the family because they are a more personal lasting tribute at home.  Plus, you may choose to send flowers to a friend in the family as oppose to the service.
How About Plants?

Don't want to send fresh flowers?  Our Plant Patio is stocked all year round with plants.  We have beautiful green and blooming plants.  We also have tropical houseplants, cacti, succulents, and even miniature plants.  We offer euro gardens, dish gardens, and miniature gardens as well.  Any of our gardens may be accessorize with angels, fairies, or small tokens to personalize the plants.