Ask the Little Sprout - La Crosse Floral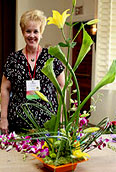 Linda Zoerb CFD AAF, President of La Crosse Floral is a nationally known, award winner for her floral design and her business acumen. La Crosse Floral has been in the family for four generations, hence Linda's childhood nickname and the title of her blog, Little Sprout. Contact her at lindaz@lacrossefloral.net.
Say it in Flowers
How often do you need to thank someone, offer support, console someone hurting, celebrate a momentous occasion or just do something nice for someone? How often at these times simple words seem to fail our true feelings. Sometimes it is necessary to reinforce our words. Sometimes there is nothing to say. Whatever the message how better to say it or not say it by sending fresh flowers.
Fresh flowers are perishable products and their use is almost completely for their beauty alone. Once wilted they do not return or offer any other purpose. Yes, their purpose is a onetime enjoyment and this is what makes fresh flowers so special.
Next time you send or receive flowers, feel special because you are giving or receiving something frivolous as it were in order to highlight what is being said, "These are for you because I want you to know how special you are."
My Top Ten "Easy to Grow" Houseplants
African Violets
Schefflera
ZZ Plant
Peace Lily
Spider Plant
Pothos
Chinese Evergreen
Jade Plant
Holiday Cactus
Philodendron